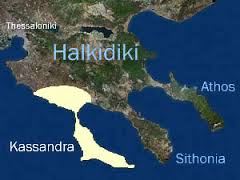 Kassandra is the westernmost peninsula of Halkidiki's trident. It is one of the most famous places in Halkidiki with particular tourism development, displaying a lot concerning the cultural and tourism sector.

It is a paradise, with endless beaches and pine areas that reach the aquamarine sea. The beautiful places look like nobody has stepped in the pure soil with dense vegetation and clear water to be directed towards a glorious union.

Tourism development has promoted the creation of very well-organized tourist facilities, luxury hotels and several entertainment centers that provide a wonderful setting for holiday weekend travelers from Greece and tourists from around the world gathered to admire the true beauty of Greek nature.